Hi, and welcome to my little corner of the world wide web.  Iris Originals showcases my counted cross stitch charts.  I've been designing for many years but started marketing my charts in 2011.
I worked in the corporate world for many years and am currently enjoying life being retired and as a cross stitch designer. 
My hand drawn patterns range from funny phrases about life, coffee, and animals, and to a light spin on the non-stop march on aging.  Charts are appropriate for all skill levels.
I have Cross stitched for over 40 years and love the opportunity to contribute back to the Cross Stitch community.  Most of my charts can usually bring a smile to someone's face.
I don't do much Barbie design these days, but it's a fun project when I do.  I love "elegant" outfits.
I'm old, I'm a widow, a mother and a grandmother and now a ❤️ great-grandmother.  I'm a Christian, a breast cancer survivor, and an animal lover.  I live in a rural area of North Alabama  with my cute Pomapoo dog and an indoor cat.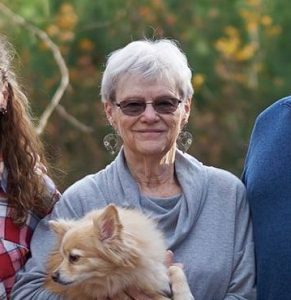 Stop back anytime, the coffee pot is always on. ☕ 🙂